Press releases
Awards & Honours
Events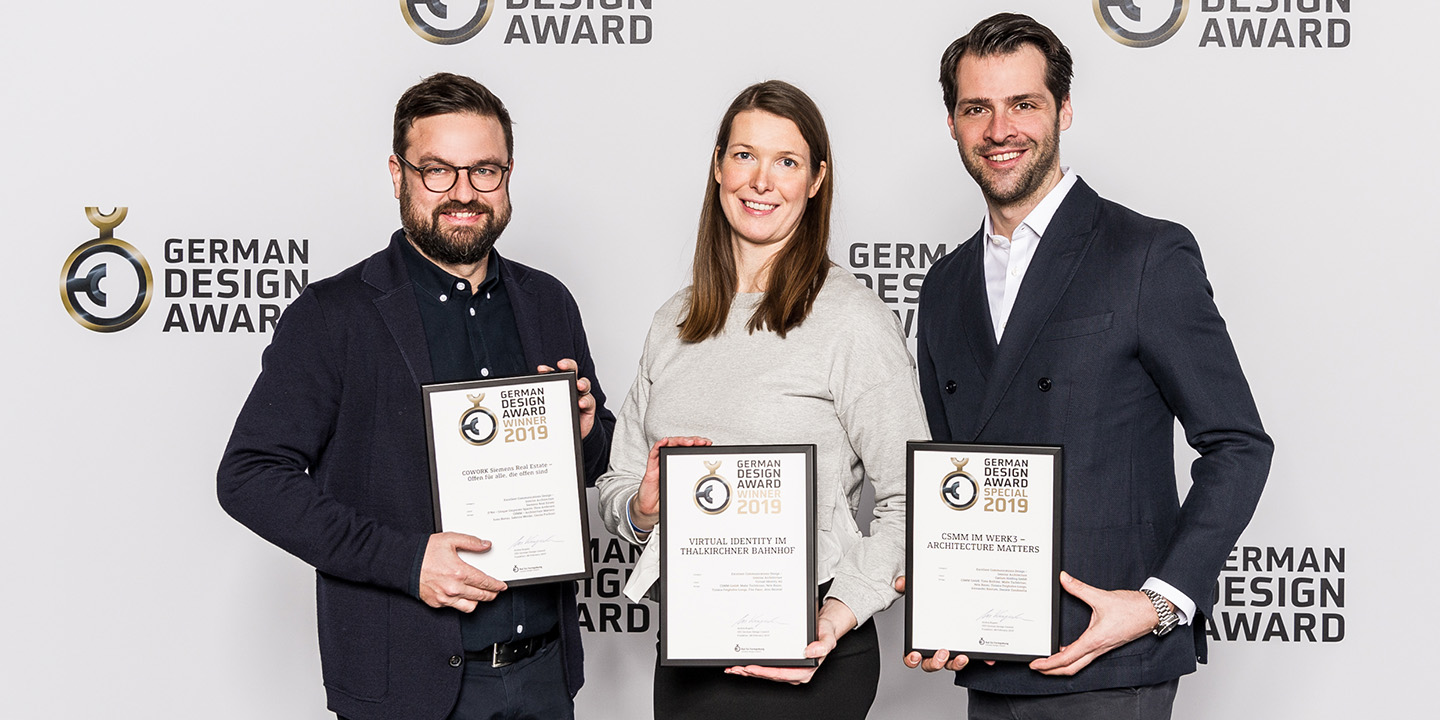 Better, more beautiful work: German Design Awards in Frankfurt given for office worlds
Munich company CSMM receives three German Design Awards in Frankfurt am Main
On Friday, the Design Council honoured particularly successful office concepts in Frankfurt am Main with the German Design Award. The Munich company "CSMM – architecture matters" has won three awards. The German Design Award, which was launched in 2012, is the Design Council's top international prize and is one of the most respected international design competitions.
So, the company's own office in WERK3 was awarded a "special mention". In addition, the jury honoured the 'Virtual Identity in the Thalkirchen Railway Station' and 'COWORK – Siemens Real Estate' projects, both implemented by CSMM, as "winners" in the 'Excellent Communications Design' category for architecture and interior design.
The special features: CSMM developed a new, future-oriented working environment from the former Thalkirchen Railway Station in Munich for the Virtual Identity social media agency. Architect and managing partner, Malte Tschörtner, is delighted: "The fact that our interior design products enjoy success in internationally renowned competitions shows both the value of the new work topic and the innovative capability of local companies which enliven such working environments."
The COWORK project involves a nexus of communication and creativity. D'NA and CSMM designed the working environment jointly with the client, Siemens, to ensure that it fostered collaboration and exchange across different departments and activities. This makes work even more interdisciplinary and agile. Sven Bietau, architect and managing partner of CSMM, explains: "The office design defines the framework in which communication and agile project management happen. Future-oriented working environments are also an image-shaping factor when it comes to recruitment and staff retention."
In this respect, the offices are anything but too beautiful to work in – on the contrary. Companies have recognised the benefit of design for a long time according to CSMM. "Beautiful and functional offices are not only a factor in terms of attracting skilled staff. Above all, employees feel better in modern working environments – and are therefore also more productive", explains Timo Brehme, founder and managing partner of CSMM GmbH. The German Design Awards thus not only reward successful design, but in fact offer companies guidance when it comes to choosing suitable consultants and designers. The 2019 German Design Awards ceremony took place on Friday at the trade fair forum in Frankfurt. After the presentation of certificates in the morning, there was a private preview of the winner's exhibition "Excellent Communications Design" at 6.00 pm in the Museum of Applied Art in Frankfurt.